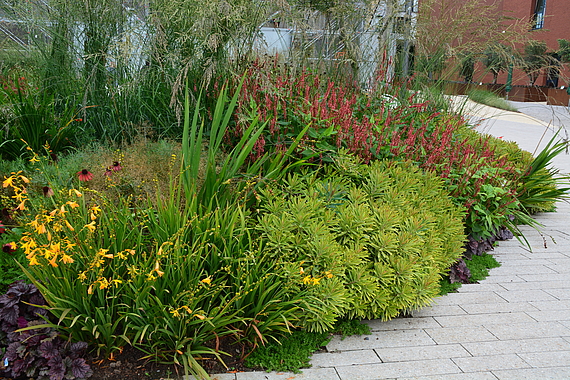 Winter Semester
Deepening Knowledge in Planting Design
"Die Kunst der Beetgestaltung" (The art of flowerbed design)
Contents and learning objectives: The focus of this course is to convey and deepen design knowledge about the use of perennials and woody plants in contemporary garden and landscape architecture. In addition to broadening plant knowledge of various assortments, the main objective is to shed light on other aspects of plant use and to learn about and apply various design options. Existing skills in designing plant combinations will be further developed through exercises, examples and suggestions.
Elective Course Content:
Aesthetic plant use
Functional types in planting seasonal aspect formers
Planting examples from a diversity of gardens
Various plant users and their planting styles
Planting design exercises with various thematic topics
Short excursions to the mountain garden of the Herrenhausen Gardens
Examination: The course is composed of different instruction methods. The lectures cover basic design aspects and assortments. In short presentations, students will elaborate on various plant users of different epochs and their design approaches. In assignments, the acquired knowledge will be applied to planning and design. In addition, there will be guided tours of the Berggarten on seasonal aspects. The final exam is the creation of a planting plan with a design concept, tables, aspect calendar and maintenance concept.
Supervisor: Prof. Dr.-Ing. Anke Seegert, M. Sc. Janina Haupt, Ingmar Guldner
The current announcement for the lecture in the winter semester can be viewed HERE shortly before the start of the semester.