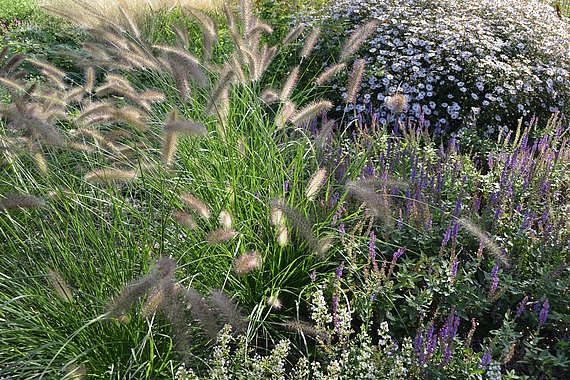 Summer Semester
Basics of Planting Design
Description: Plants shape our urban and rural open spaces. From a physical science perspective, they can be indicators of specific site conditions or enable us to draw conclusions about a vegetative community. Ecologically, plants play an important role in regulating climatic conditions in urban areas and serve as a food source or a habitat for fauna.
Last but not least, plants and the composition of different species in a plant arrangement are an aesthetic design element: flowering perennial beds or species-rich woody plantings are an important component of gardens and parks.
In open space planning as well as in landscape planning, knowledge of plants is an indispensable foundation for sound professional planning activities.
The primary teaching contents of this course are the basic principles of site-appropriate plant use. The goal is to convey the role of planning and designing plantings as a tool for aesthetic open space design.
Learning Objectives: Basic technical knowlege and design principles for the use of perennials and woody plants in contemporary garden and landscape architecture are the main components of the course.
Contents of the Mandatory Course:
Basic principles of a planting design
The habitats of perennials
Knowledge of the basic assortment of woody plants
Exercises in planting planning for individual habitats
Short field trips to the Berggarten of the Herrenhausen Gardens
The student learning objectives are to obtain basic knowledge of the principles of site-appropriate plant use with commonly used assortments, as well as to acquire basic skills in developing planting plans including planting and maintenance concepts.
Examination: The submission and presentation of assignments in planting planning are a prerequisite for the examination. These will be worked on during the lecture period. In a plant identification test, obtained knowledge of perennial and woody plant assortments is tested and evaluated. As a final examination task, a planting area will be planned in small groups.
Organizational matters: The lecture for all students will take place in the Kika lecture hall. Following the lecture, regular praxis-oriented guided tours of the Berggarten are planned, in which the theoretical lecture content is demonstrated. The guided tours take place simultaneously, however are led in smaller groups by the supervisors.
Supervisors: Prof. Dr.-Ing. Anke Seegert, M. Sc. Philipp Ludwig, Ingmar Guldner
The current announcement for the summer semester lecture can be viewed HERE just before the semester starts.