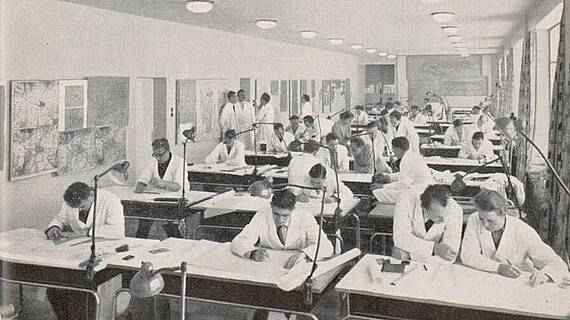 The Institute for Land Management and Landscape and Garden Design was established in 1947 in Sarstedt with the founding of a college for horticulture and regional culture. An eight-semester program in land management led students to the title "Diplom-Gärtner" (Diploma of Gardening). In 1952, the green college was incorporated into the Technical University of Hannover, and in 1954 the institute moved from Sarstedt to Hannover-Herrenhausen.
Four years later, in 1958, the existing institution was divided into an Institute for Green Planning and Garden Architecture (now Landscape Architecture) and an Institute for Landscape Management and Nature Conservation (ILN). Together with the teaching area of Agriculture and Regional Planning established in 1956 (which became the Institute of Regional Planning and Spatial Research (ILR) in 1969), both formed the Department of Land Management. The Institute of Vegetation Science (now the Institute of Geobotany), added in 1967, relocated to the Subject Area of Biology in 1980.
Public debates surrounding social and political reforms led to the establishment of the Institute of Urban Landscape Planning (later the Institute for Open Space Development and Planning Sociology) in 1974. Around the same time, the degree program was fundamentally reformed. Project-oriented courses were introduced as early as 1971, and the degree was renamed "Diplom-Ingenieur der Landespflege" (Diploma of Engineering in Land Management).
In 1980, as part of the replacement of faculties with smaller entities, the Institute for Landscape Management became its own stand-alone Subject Area of Landscape Management. The praxis-oriented project-based program was left unchanged by the academic reforms of the 1980s; new graduates were now granted the title "Diplom-Ingenieurin oder Diplom-Ingenieur der Landschafts- und Freiraumplanung" (Diploma in Engineering in Landscape and Open Space Planning). In the 1990s, the department adopted the new name "Landschaftsarchitektur und Umweltentwicklung" (Landscape Architecture and Environmental Development).
With the restructuring of the University of Hannover in 2006 and the formation of faculties as larger units, the two Subject Areas of Landscape Architecture and Environmental Development and Architecture became the joint "Fakultät für Architektur und Landschaft" (Faculty of Architecture and Landscape).
Prof. Dr. Joachim Wolschke-Bulmahn [Translated to English]